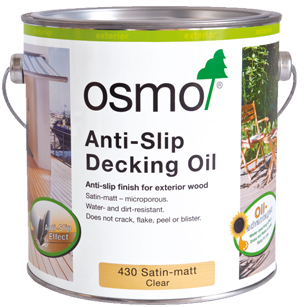 430 Clear
Oil-based, anti-slip finish – added safety for your family!
Clear, satin finish for exterior wood.




Especially recommended for wooden decking.




Anti-Slip Decking Oil reduces the risk of slipping and extends the life of the pigmented base coat by providing extra protection against weathering. The surface is water-repellent, weatherproof and UV-stable. The coating is protected against mould, algae and fungal attack.




Number of coats: 1 top coat for deckings that have already been treated with one of the pigmented Osmo Wood Oils. For renovation only one coat is needed – no sanding required!




Can sizes: 0.75 l; 2.50 l; 25 l




1 litre covers approx. 24 m² with one coat.