WOOD WAX FINISH INTENSIVE COLOURS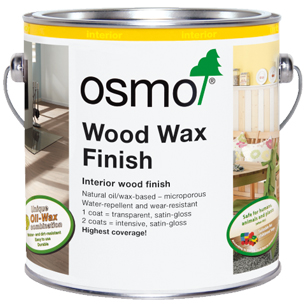 3104 Red approx.RAL 3000 Flame

3105 Yellow approx.RAL 1021 Colza

3125 Blue approx.RAL 5010 Gentian

3131 Green approx.RAL 6029 Mint Green

3132 Gray Beigeapprox RAL 1019 Grey Beige

3169 Black

3172 Silk

3181 Pebble

3186 White Matt

3188 Snow
Transparent or intensive, satin or matt, for the interior.




Highly recommended for furniture and children's toys, flooring*, walls, ceilings, doors, mouldings, beams and edge-glued panels.




Wood Wax Finish results in a water and dirt-resistant surface. It is wipe-proof and stain-resistant.




As colouring primer for wooden flooring, apply only one coat. Once completely dried, apply the final top coat with clear Polyx®–Oil Original.




All Wood Wax Finishes can be mixed with each other or with the clear Polyx®–Oil Original.




Use directly or as the basis for creative colour tones.




Number of coats: for a transparent finish, one coat, for an intenstively coloured surface, apply two coats.




Can sizes: 0.125 l; 0.375 l; 0.75 l; 2.50 l; 25 l. (Intensive colours are not available in all sizes.)




1 litre covers approx. 24 m² with one coat.

The technical point mention in the original site; mention as it is, don't amend with synonyms - * for flooring, a top coat with Polyx®-Oil is recommended.