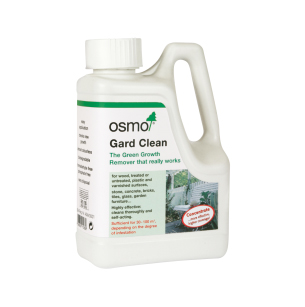 The green growth remover that really works!
Highly effective concentrate, for the exterior.




Especially recommended for wooden decking, screens, garden furniture and pergolas. Also suitable for plastic and varnished surfaces, stone, concrete or glass.




Gard Clean removes green growth and other natural dirt and stains from surfaces thoroughly, quickly, gently. It is self-activating, low in odour, and delays new growth.




Application: Depending on the level of growth, apply directly or diluted with maximum 10 parts water thinly and evenly. The green growth disappears normally within 24 hours




Can sizes: 1 l; 5 l




1 litre covers approx. 30 - 100 m2, depending on the degree of growth.

Use biocides safely! Always read the label and product information before use.