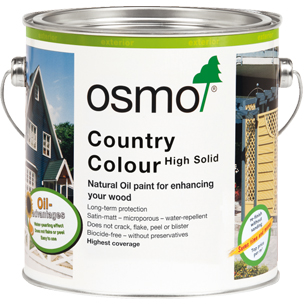 2101 White
2203 Light Ochre

2204 lvory
2205 Sunflower Yalow

2308 Nordic Red

2310 Cedar/Redwood

2311 Signal Red

2404 Fir Green

2506 Royal Blue

2507 Dove Blue
2606 Brown

2607 Dark Brown

2703 Charcoal

2704 Dusk Grey

2708 Pebble Grey

2716 Grey

2735 Light Grey
2742 Traffic Grey
Multitude of colours and unrivalled durability – for all weather conditions!
Opaque, satin-matt, for the exterior.




Highly recommended for timber cladding, balcony elements, windows, garden houses, garden furniture etc.




Osmo Country Colour is extremely weatherproof and robust against small damages.




Number of coats: 2 coats on raw wood. For renovation, normally 1 coat applied to a clean and dry surface is sufficient - no sanding necessary!




Can sizes: 0.75 l; 2.50 l; 25 l.




1 litre covers approx. 26 m² with 1 - coat.




Please note: the desired results of the colour tone may vary depending on the wood species.