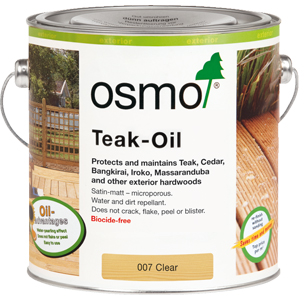 004 Douglas Fir Oil, Natural Shade

006 Bangkirai Oil,Natural Shade
007 Teak Oil, Clear

009 Larch Oil, Natural Shade

010 Thermo wood oil, NaturalShade

013 Garapa Oil, Natural Shade

014 Massaranduba Oil, NaturalShade

016 Bangkirai Oil, Dark

019 Decking-Oil Grey

021 Decking-Oil Bog Oak
Especially developed for the individual needs of numerous fine and coniferous wood species!
Clear or transparent, satin, for the exterior




Highly recommended for garden furniture and wooden decking




Smoothens wooden surfaces and makes them water and dirt-repellent.




Number of coats: 2 coats on raw wood. For renovation, normally 1 coat applied to a clean and dry surface sufficient – no sanding required!




Can sizes: 0.75 l; 2.50 l; 25 l.




1 litre covers approx. 24 m² with 1 coat.

Note: Osmo Teak-Oil is clear and offers no UV protection (greying).Convenient and easy to apply: Osmo clear Teak-Oil Spray for refreshing garden furniture and decking! Please note: the desired results of the colour tone may vary depending on the wood species.