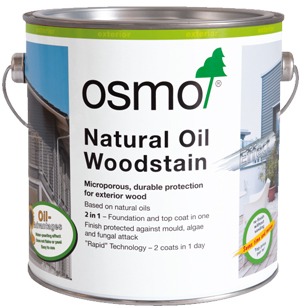 700 Pine
701 Clerar, Matt

702 Larch

703 Mahogani

706 Oak

707 Walnut

708 Teak

710 Stone Pine

712 Ebony

727 Rose Wood

728 Red Cedar

729 Fir Green

731 Oregon Pine
732 Light Oakne

900 White

903 Basalt Gray

905 Patina

906 Peral Gray

907 Quartz Gray
Base and top coat combined into one – the innovative, long-term, oil-based wood protection!
Transparent, satin, for the exterior.


Highly recommended for timber cladding, carports, balcony, screens, fences etc.


Natural Oil Woodstain is water-repellent, weatherproof and UV-stable. The microporous surface contains active ingredients to protect the wood against mould, algae and fungal attack.


Number of coats: 2 coats on raw wood. For renovation, normally 1 coat applied to a clean and dry surface is sufficient – no sanding necessary!


Can sizes: 0.75 l; 2.50 l; 25 l.


1 litre covers approx. 26 m² with one coat.


Natural Oil Woodstain 701 Clear matt can be used to reduce the gloss level of Osmo satin wood finishes used on vertically installed exterior wood. When used as a self-priming finish, it offers no UV protection.


Please note: the desired results of the colour tone may vary depending on the wood species.