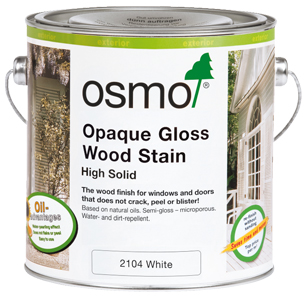 2104 White
Especially developed for windows and doors – extremely water–repellent, weatherproof and UV–stable!
Opaque satin wood finish for exterior use.




Highly recommended for windows and doors.




Osmo Opaque Gloss Wood Stain is water-repellent, weather-proof and UV-stable / applied thinly, the finish is easy to apply and gives great coverage.




Number of coats: 2 coats on raw wood. For renovation generally 1 thin coat applied to a clean and dry surface sufficient - no sanding required!




Can sizes: 0.375 l; 0.75 l; 2.50 l.




1 litre covers approx. 20 m², with 1 coat.




Please note: the desired results of the colour tone may vary depending on the wood species.