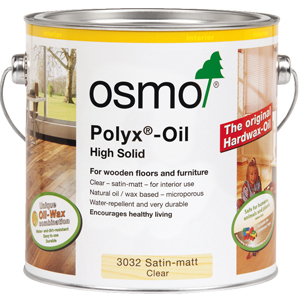 3011 Clear Gloos

3032 Clear Satin

3062 Clear Matt

3065 Clear Semi-Matt
Specifically geared towards the needs of wooden flooring – for a low-maintenance surface that provides a healthy atmosphere!
Clear, for the interior




Highly recommended for solid wood and plankwood flooring, blockstrip, OSB and cork floors as well as for furniture and edge-glued panels




Polyx®–Oil Original enhances the tone of the wood, repels water and dirt, is resistant to abrasion and extremely hard-wearing.




Number of coats: 2 coats on raw wood. For renovation, normally 1 coat applied to a clean and dry surface is sufficient – no sanding necessary!




Can sizes: 0.375 l; 0.75 l; 2.50 l; 10 l; 25 l




1 liter covers approx. 24 m² with 1 coat.



* Also available with SOLAS certificate for shipbuilding upon request