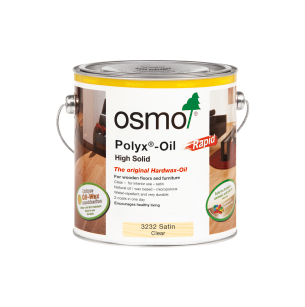 3232 Clear Satin

3262 Clear Matt
The tried and trusted Osmo Polyx®-Oil in a fast drying version – for 2 coats within just one day!
Clear, for the interior.




Highly recommended for solid wood and plankwood flooring, blockstrip, OSB and cork flooring.




Polyx®–Oil Rapid retains the natural character of wood whilst increasing the durability, it is water and dirt-repellent, and extremely hardwearing.




Number of coats: 2 coats on raw wood. For renovation, normally 1 thin coat applied to a clean and dry surface suffices – no sanding necessary!




Can sizes: 0.375 l; 0.75 l; 2.50 l; 10 l; 25 l




1 litre covers approx. 24 m² with 1 coat.