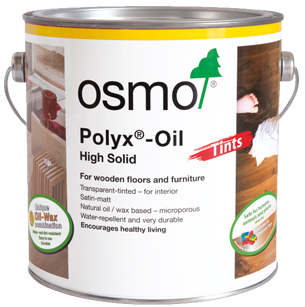 3040 White
3067 Light Grey

3071 Honey

3072 Amber

3073 Terra

3074 Graphite

3075 Black
Our tried and trusted Polyx®-Oil in a coloured version – tinted for individual creativity!
Transparent, satin, for the interior.




Highly recommended for solid wood, plankwood, OSB and cork flooring and blockstrip as well as furniture and edge-glued panels.




Polyx®–Oil Tints results in a transparent coloured wood surface whilst increasing its durability, it is water and dirt-repellent, and extremely hard-wearing.




Number of coats: for untreated wood max. 2 coats. Treat floors maximum 1x with Polyx®–Oil Tints. Carry out second coat with a clear Osmo Polyx®–Oil.




Can sizes: 0.75 l; 2.50 l; 10 l; 25 l




1 liter covers approx. 30 m² with 1 coat.




Please note: the desired results of the colour tone may vary depending on the wood species.