POLYX®–OIL EFFECTS NATURAL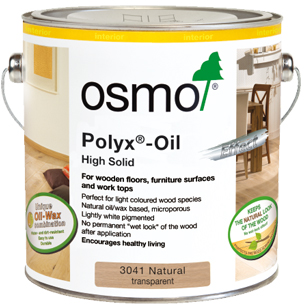 3041 Natural
POLYX®–OIL EFFECT NATURAL - Specifically geared to light-coloured wooden flooring – for a finish that does not enhance the tone of wood!
Transparent, satin, for the interior,




Highly recommended for solid wood floors, blockstrip, plankwood, OSB and cork flooring; also suitable for furniture and edge-glued panels .




Polyx®–Oil Effect Natural preserves the natural character of wood..




Number of coats: treat floors maximal 1x with Polyx®–Oil Effect Natural. 2nd coat is to be carried out with a clear Osmo Polyx®–Oil.




Can sizes: 0.75 l; 2.5 l; 25 l




1 litre covers approx. 30 m² with 1 coat.



TECHNICAL INFORMATION
ADD TO INTREST BOX