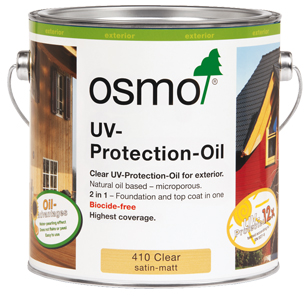 410 Clear, satin without biocides
Optimal protection from the sun – the first clear oil-based UV protection for the outdoors!
TClear, satin, for the exterior.




Highly recommended for all vertical wood surfaces in the outdoors: timber cladding, roof overhangs, balcony elements, windows and doors etc.




When used as a top coat after staining wood, Osmo UV-Protection-Oil prolongs the time between necessary renovation works significantly. When used as a self-priming finish, it prevents the greying process through a UV-Protection factor 12 in comparison to untreated wood.




Number of coats: 2 coats on raw wood. For renovation, normally 1 coat applied to a clean and dry surface suffices – no sanding required!




Can sizes: 0.75 l; 2.50 l; 25 l.




1 litre covers approx. 18 m² with one coat.