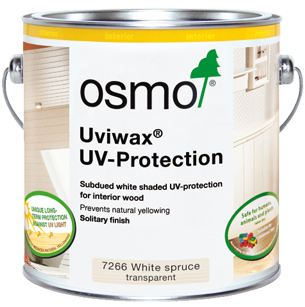 7200 Clear Satin

7266 White Spruce
Unique UV Protection - ideal for the initial treatment of solid wood wall and ceiling panelling
Clear or transparent, satin, for the interior




Highly recommended as a self-priming finish for wall and ceiling panelling, as well as cabinets and doors




Uviwax® UV-Protection significantly reduces the natural yellowing process, and the bright, natural colour of the wood is preserved for a long time.




Number of coats: 2 coats on the raw wood. For renovation, normally 1 coat applied to a clean and dry surface sufficient.




Can sizes: 0.75 l; 2.50 l; 25 l




1 litre covers approx. 16 m² with 1 coat




Please note: the desired results of the colour tone may vary depending on the wood species.