WOOD WAX FINISH TRANSPARENT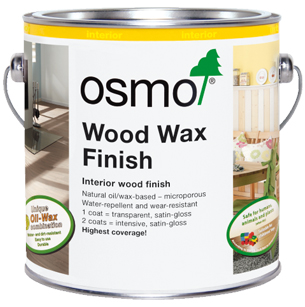 3101 Clear

3102 Lightly Steamed Beech

3103 Light Oak

3111 White

3118 Granite Grey

3119 Silk Grey
3123 Pine

3136 Brich

3137 Cherry

3138 Mahogany

3143 Cognac

3161 Ebony

3164 Oak

3166 Walnut

3168 Oak antique
Transparent and intensively coloured designs – the all–round talent for interior wood!
Transparent or intensive, satin or matt, for the interior.


Highly recommended for furniture and children's toys, *flooring, walls, ceilings, doors, mouldings, beams and edge–glued panels.


Wood Wax Finish results in a water and dirt–resistant surface. It is wipe-proof and stain-resistant.


As colouring primer for wooden flooring, apply only one coat. Once completely dried, apply the Top Coat with clear Polyx®–Oil Original.


All Wood Wax Finishes can be mixed with each other or with the clear Polyx®–Oil Original.


Use directly or as the basis for creative colour tones.


Number of coats: for a transparent finish, one coat, for an intenstively coloured surface, apply two coats
– Can sizes: 0.125 l; 0.375 l; 0.75 l; 2.50 l; 25 l


1 litre covers approx. 24 m² with one coat. Intensive colors are not available in all sizes


Please note: the desired results of the colour tone may vary depending on the wood species.

For flooring , a top coat with Polyx®–Oil is recommended