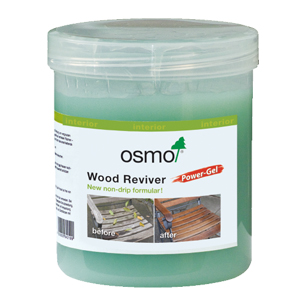 Perfect for refreshing and cleaning greyed wooden surfaces.
Special liquid cleaner, for exterior use.




Highly recommended for wooden decking, timber cladding and similar surfaces.




Removes grayed wood cells, the wood regains its natural character and almost its original colour.




The product is odourless and biodegradable.




Use: depending on the level of greying, the Wood Reviver Power-Gel has to be used once or twice. Leave for 15 minutes, remove using a hard bristle brush (deck scrubber) and lots of water. After thorough drying, protect the surface with an Osmo wood finish.




Can sizes: 0.5 l and 2.5 litre with deck scrubber




1 litre covers approx. 10-30 m², depending on level of greying.